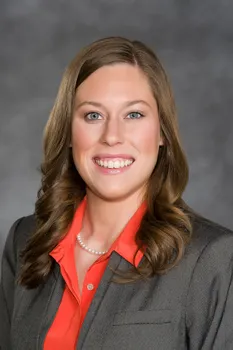 Dr. Mansdoerfer grew up in Northern Virginia and is glad to be a "transplant" here in the NRV. She received her undergraduatedegree in Human Nutrition Foods and Exercise Science from Virginia Tech, and a Doctor of Dental Surgery Degree from the Virginia Commonwealth University School of Dentistry in 2015. She completed a General Practice Residency at the Carilion Clinic focusing on medically compromised patients and operating room procedures.
Dr. Mansdoerfer met her husband at Virginia Tech in the marching band, the Marching Virginians. They love watching Hokie football with their friends and family. When it is time to relax, Dr. Mansdoerfer and her family like to spend time at the beach and have recently taken up scuba diving.
Memberships include the American Dental Association, Virginia Dental Association, Southwest Virginia Dental Society, and the Academy of General Dentistry. Dr. Mansdoerfer enjoys having patients who feel like family over the years, as well as meeting new faces! Can't wait to see you!